Anyone who has ever felt the pull to be as swift as the coursing river or as mysterious as the dark side of the moon understands the attraction I have for Disney's Mulan.  It's not hard to see the pull: there are few things more motivational than an animated warrior with the voice of Donny Osmond encouraging us to defeat the invading menace.  I even used this as my alarm for every day of finals week once. Talk about inspiration.
Mulan's positive, quasi-feminist message is refreshing and forms the film's backbone, and for that I take off my hat to Disney circa 1998. Mulan proves that her sex has nothing to do with her ability to be a powerful fighter and save all of Imperial China from the Hun invasion. Her strength, though not entirely physical, comes from her ability to think on her feet and outsmart her opponents, which is a great message to give to young girls. If you ever wanted to explain to a young girl how she can be so much more than a pretty pink princess, look no further than this film.
Yes, Mulan is a powerful, self-motivating heroine. She defies the patriarchal system that says women aren't allowed in combat in order to help those she loves. (As a side note, let's not forget that though this film takes place in Imperial China, women were not allowed in combat roles in the United States until January of this year.)
But I take issue with those who claim that Mulan is the be-all, end-all of feminist Disney movies. There is so much in this film that is problematic. Though Mulan might be a better female role model in today's world than, say, Snow White, I'm not allowing Mulan to skip away merrily with a clean bill of health. For starters…
Awkward whitewashing
Let's just take a side-by-side shot of the two leaders of the warring parties in the film: the unnamed Chinese Emperor, and Shan Yu, the leader of the Mongolian Huns.
The difference isn't hard to spot. The Emperor, clearly the good guy, gets the same skin tone as all the good guys in this film: white. I know that they're two-dimensional characters, but looking at skin tone alone, the Emperor looks no different than any of the other benevolent Disney kings throughout film: King Triton from The Little Mermaid, the unnamed King from Cinderella, Umberto from Sleeping Beauty… I wanted to put Mufasa on this list as well, just because the color palate is not that different.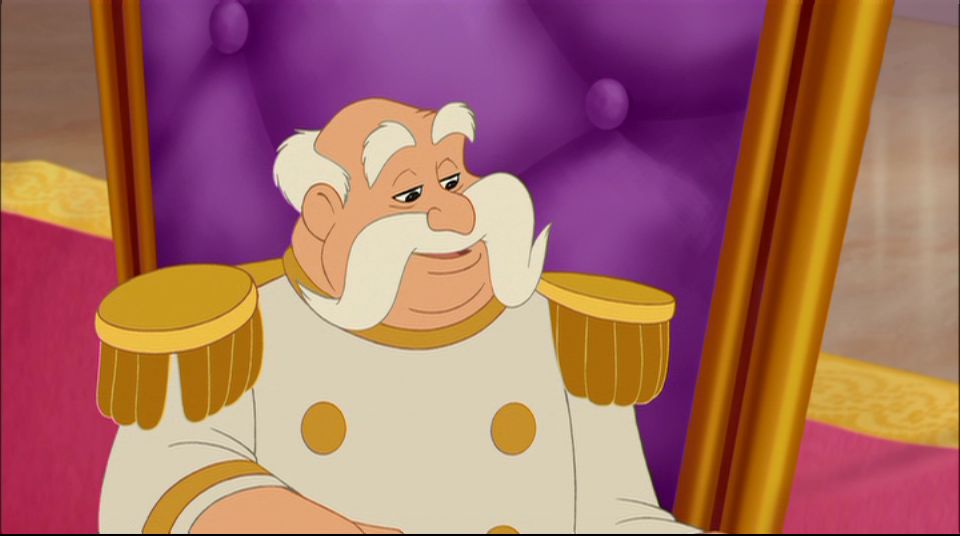 Getting the message? All the good guys in this film, and in other Disney films, have the same skin color: this one. Would we not know that Mulan, Fa Zhou, and Shang were good guys if Disney didn't westernize them as much as they could get away with? Something tells me we would, but no one was taking any chances.
The bigger problem, though…
Racial Othering
Spellcheck likes to tell me that "racial othering" is not a real phrase, but I assure you, in Mulan it is a serious problem. Look back at that image of Shan Yu a little ways up the page, next to the King-Triton-With-A-Hair-Straightener Emperor. Notice anything different? Let's make a quick list…
Gray skin
Yellow eyes
Pointed teeth (I might even say fangs)
Enormous build (taking the inverted-triangle ideal to a new level)
Evil falcon as his sidekick
Okay. I understand that Disney needs to create a clear enemy for this film. But is it necessary to do it based on physical charactaristics that make Shan Yu and his men look more like animals than people? In my opinion, this only makes it easier to see life through a "us versus them" mentality. It's impossible to feel bad when the Huns are crushed by a giant avalanche in the middle of the film. It's not like they're humans, after all. Take a look at the Huns' charge compared with another favorite Disney scene below, and you'll start to see what I mean.
Mongolians? Charging wildebeest? Tough to tell, except for the snow.
Cultural Appropriation
The character of Mushu, in particular, seems to take every opportunity possible to make a terrible joke based on Asian stereotypes, though he's not the only one. Let's just take a moment to list a few of them here…
"All right! Who wants egg rolls?"
*while riding a panda* "What's the matter? Never seen a black and white before?"
"Order, order!" "I'll have sweet and sour chicken!" "Moo goo gai pan!"
"A single grain of rice can tip the scale… between victory and defeat."
"My children never caused such trouble. They all became acupuncturists!"
It seems like the best understanding of Asian culture that Disney can come up with in these way-too-easy jokes is Americanized Chinese food and the giant panda. Really?
Even Mushu's name is ridiculous that way. Mu Shu Pork is not an accident. It's like setting a Disney film in Mexico and having the plucky animal sidekick be a talking Chihuahua named Fajita.
And let's talk about the character of the Emperor for a moment. He's the embodiment of the Wise Old Man On Top Of  A Mountain, who descends to speak in proverbs and impart his wisdom on the other characters in the scene. Any man who calmly says things like, "No matter how the wind howls, the mountain cannot bow to it," or "The flower that blooms in adversity is the most rare and beautiful of all," is playing into the stereotype of the wizened, wise old sensei that's been done to death in the media before this film.
Now, if we're being honest, I love the Emperor's character. I want to hang around him and listen to him speak in proverbs all the time. But there's a time and a place for a character like this, and I'd argue that a film intended to respect Chinese culture is not the time nor the place to indulge this particular played-out stereotype.
Then let's take a quick look at the image below. Are there any other traditional Chinese icons that we could cram into the shot, besides the Chinese Dragon Dance, the paper lanterns, the fireworks, even the Emperor's giant Fu Man Chu beard just out of shot. There's something to be said for respecting traditional culture, but there's a way to do it tastefully, and then there's a way that just looks like the animated version of DisneyWorld's Epcot.
Gender Binary Stereotypes and Femininity
Mulan has been described as "Disney's most pro-feminist animated film," by more than one source, but there are still plenty of bones to be picked about the way Disney treats gender roles in this film. Let's start with the typical launching pad for this discussion: treatment of women.
The first time I began to squirm in this latest re-viewing of Mulan was the entrance of the Matchmaker. I've discussed before how Disney villains tend to have non-conforming body types and wear purple for some inexplicable reason, and the Matchmaker follows both of these rules to the letter. Beyond that, the whole opening "Honor To Us All" sequence is irritating to me in two ways. Even though I know that the lyrics are being set up  to be disproven by the rest of the film, I can't help but flinch when I hear the women in the background singing:
We all must serve our Emperor who guards us from the Huns
A man by bearing arms, a girl by bearing sons.
This may or may not have been the case in the time period of the film, but I'm not buying historical accuracy for the choice of "girl" in that line. How old is Mulan? According to several sources, sixteen. If we're going to tweak our accuracy to add talking dragons and magic crickets, I think we can leave out the whole "teen pregnancy" aspect. Not much of a helpful point there.
But traditional women's roles in this film are only a source of mockery. Look at the Matchmaker. She embodies the tradition of stay-at-home women who take care of their family and get married. And what has she become? A slapstick farce. As feminists, we should be free to make our own choices about whether or not to seek work outside the home, but we should not take away the dignity of any woman's choice. As a stay-at-home mom I recently spoke to said, "Until you live my life, don't tell me what to do. I do things. I go out. I don't sit around eating bonbons and watching soaps all day." If Mulan aspires to be feminist, make it clear that the protagonist disapproves of the stay-at-home wife lifestyle because it's not right for her, not because there's something intrinsically wrong with that kind of role.
The total lack of respect for femininity as it is understood in society continues on through the film as Mulan makes a name for herself. How does she do it? By pretending to be a man and excelling in traditionally "masculine" pursuits like climbing tall objects and kicking other people in the face. Is this fair? What message are girls to take away from this? That, to be respected and important, you must pretend to be a man and do everything a man does, only better? Doesn't this sound a little like problems we're currently having in the workplace with the glass ceiling?
Some might argue that this line of reasoning doesn't hold up, because Mulan's biggest victory comes after she's been revealed as a woman, and indeed she defeats Shan Yu while wearing a dress. Okay. I'll give you that. But look at the scene closer. How do the soldiers Lin, Xiao, and Chen Po help Mulan? By dressing in drag and distracting men with their "feminine wiles." And what does Xiao say in the beginning of that scene?
"Does this dress make me look fat?"
Really? Is that what we're reinforcing here? That women are made to look pretty and worry about their figure, and men are made for violence and action? And if you want to get anything done, you must embrace all the aspects of the opposite gender and neglect your own? It might seem like I'm over-reacting here, but I really don't thnk I am. There's no place for "fat jokes" and "the power of batting eyelashes" in my female warriors, personally. If you want to empower women, you can't objectify them at the same time. Something doesn't add up.
Masculinity
Okay, I'll climb off my socially-constructed-femininity soapbox for a moment, only to climb up on my socially-constructed-masculinity soapbox conveniently located right next to it. Let's take a listen in on Mushu's advice to Mulan about how to be a man…
Mulan: "They're disgusting."
Mushu: "No, they're men. And you're going to have to act just like them, so pay attention… It's all attitude. Be tough like this guy here. Punch him. It's how men say 'hello.'"
And then this bit later, again by the incomparably uncomfortable Mushu, as Mulan decides to bathe. (Just another opportunity for animated children's film penis jokes, right?)
Mushu: "So a couple of guys don't rinse out their feet. I kinda like that corn chips smell… -mocking- Stand watch, Mushu, while I blow our secret with my stupid girly habits. Humph, hygiene."
So, what have we learned about men from this film? They're stupid, unhygienic, smelly, obsessed with mindless violence, and every single one of them objectifies women based on what they look like and how good they are in the kitchen. They can even do this in a choreographed song-and-dance routine, if pressed.
And if they don't fall into this stereotyped role, they're mocked and made to look ridiculous. The Disney trope of the effeminate sidekick who doesn't have any idea what's going on and who exists solely to be laughed at (think Wiggins, Lawrence, or Cinderella's Grand Duke) is filled in this case by Chi Fu, the Emperor's consul. What is his role? To take snide notes, prance around in a bathrobe, and occasionally scream like a girl.
What is the point of this, other than to make everyone else look more "manly" by comparison, and to get another good laugh in at femininity's sake? There seems to be something decidedly un-feminist about a bit of dialogue like:
"You boys owe me a new pair of slippers! And I do not scream like a girl. *high-pitched scream*"
Trans* Problems
For a film in which the main character spends at least sixty percent of her screen time adopting the appearance and mannerisms of someone of the opposite gender, Mulan doesn't deal overly kindly with characters who do not fit nicely in socially constructed gender binaries. For starters, the quick-and-easy transgender jokes like to crop up at inconvenient times…
"Your great-granddaughter had to be a cross-dresser!"
"I'm doomed! And all 'cause little Miss Man decides to take her little drag show on the road!"
*while Mulan bathes* "We're doomed! There's a couple of things they're bound to notice!"
Besides this, let's take another look at the movie's first comic sequence, the scene with the Matchmaker. What would be a funny way to humiliate this woman, who's clearly in control of the situation and to whom women are supposed to be respectful? Let's give her a fake beard! It's funny, because "she's acting like a man." And what's more funny than women who think they're men?
Seriously? I know it was 1998. But think about the message of this film. Under what circumstances can you empower women and make fun of them at the same time by giving them traditional masculine characteristics?
Clearly there are other problems with nontraditional gender roles in this movie, not least of all the cross-dressing scene while Mulan attempts to rescue the Emperor (pictured above). But, again, it was 1998. While it's disappointing, I can't say I'm that surprised.
I have less than no intention of removing "I'll Make A Man Out Of You" from my list of potential alarms in the coming year. And I will continue to respond to slights and slip-ups by my friends with "Dishonor! Dishonor on you, dishonor on your cow…" But from now on I plan on taking even this beloved Disney classic with a grain or two of salt.
What do you think?
(Note: quotations in this piece were transcribed from the full Mulan script at IMSDb. Any inaccuracies in the transcriptions above are my own.)